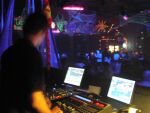 S.A.O.M.
1996 Sebastian Schmidt got his initiation into Hip Hop and Drum`n Bass when he and his friend Jens v. Thuenen started the project "Vaute".Together they did a few liveacts in and arround Hannover.
At the same time he was involved in an artistpool at the " Veranstalltungszentrum " in Hannover, where artists and spectators get together for spontaneously sessions.
1999 he founded " Psykomantis " with Sven Stahnke ( Sossy Sonnenwind ). In this project they produced trancemusic with spacy vocals and psychedelic guitar-riffs. At this time they got a lot gigs arround europe.
In the year 2002 " Selected-Art-of-Mind " was born. This is an alias to produce different music and styles under one name. At the end of 2002 S.A.O.M and Dj el Rey come together for a new live-project where they play together / alternately rocking progressiv sound with spacy mindblowing vocals.
Listen to releases from S.A.O.M